Once we have a branch or a log we can use the carving axe to split it, being guided by the direction of the grain of the wood. In the next video you can see different ways to do that:
Depending on our skill with the axe we will be able to remove as much wood as we can to get closer to the outline of our spoon design, like Tom Scandian demonstrates in this next clip: Tom is a professional spoon carver with many years of experience, his advanced techniques allow him to cut with this speed and precision. For your own safety don't try to imitate him.
The ideal axe for Spoon Carving must be used with only one hand, that's why the weight is very important and can be between 300 and 1200 grams. It's important to find the right balance, if it's very light it won't have enough inertia to make proper cuts but if it's very heavy we might not be able to make accurate repetitive cuts and it's more strenuous for our body.
The main characteristics of a carving axe are: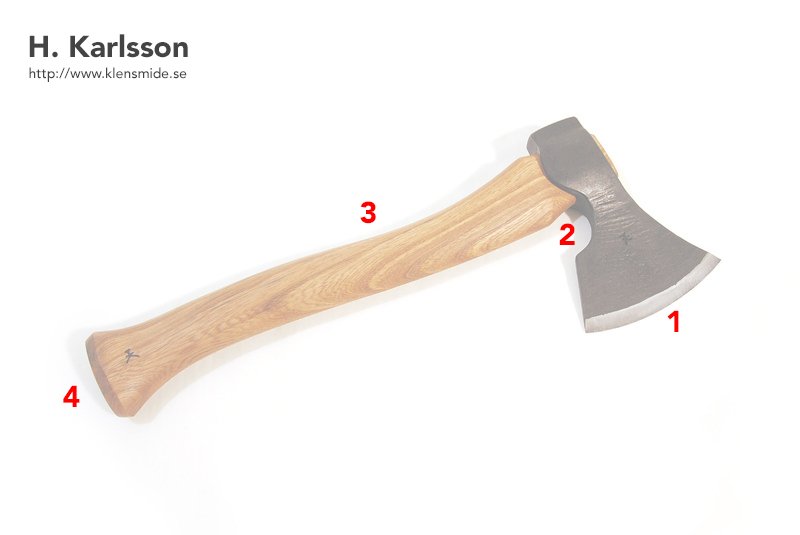 Curved cutting edge.
Slotted head for closer grip.
Slight curvature on the handle.
Wider handle towards the end as grip stop.
In the market we can find axes ranging from 30€ up to more than 200€. We can always begin with a cheap axe if we can make the effort to sharpen it well. A sharp tool makes the biggest difference and it's much safer.
These are some examples of Axes, from the cheapest to the most expensive: